What clients and students are saying
---
With the help of Lauren's coaching, I was able to successfully launch my co-hosting business and achieve my personal and financial goals far sooner than I would have expected. The knowledge, tools, and advice she was able to provide were worth their weight in gold. Purchasing her co-hosting contract was one of the smartest business moves I've made so far. You can learn the hard way by experiencing many of the pitfalls of co-hosting yourself but with Lauren's help, my first 6 months of co-hosting have been relatively smooth sailing.

– Michael H.

"Lauren has been such a great property manager. My husband and I moved to a house and wanted to rent out our apartment on Airbnb. Lauren pretty much took over everything, and I felt like all my worries and needs were addressed. She communicates so well with guests and treats your home like it's yours. The guests give her and the property such wonderful reviews. I was very skeptical about putting our property on Airbnb and not getting a return for our risk, but it has been so worth it. If you are looking for someone who is honest, dependable, trustworthy, and smart, she is the person to use for property management. If I could go back, I wouldn't change a thing!"

– Melody S.

"Her Cohost Accelerator course gave me the confidence I needed to expand my business and helped me to be aware of issues, pitfalls, and helpful automation tips before I even started with a client…I'm less than 3 weeks in on my first listing, and we are already live and have had 3 stays! I couldn't have done any of this without Lauren's help."

– Renee J.

Lauren is a rare gem. She cares so much about what she does and who she does it with and for. Our guests constantly rave about her clear communication, kindness, and hospitality. And it's true- she is absolutely excellent at making our guests feel welcome, loved, and cared for. As a host, we feel like we have a true partner in Lauren. We feel heard, valued, and appreciated. And she makes our role so easy. It is literally her mission to take all of the work that comes along with hosting off our plates…and it's a true joy to welcome guests into our home each week.

– Maggie H.

Lauren has been our Airbnb manager for years now and it has been a great experience. She takes over virtually every facet of the space and its management. She did a great job listening to what we wanted and how we hoped it would go and has done an excellent job helping our space reach its potential both in presentation and in earnings; her decisions improve our business and minimize our time commitment. Lauren is good at communicating how things are going and responding to our feedback and we have earned several thousand dollars that we wouldn't have otherwise. We highly recommend her…

– Andrew A.
---
I could toot my own horn…but why bother?
The testimonials of people who have actually worked with me say plenty.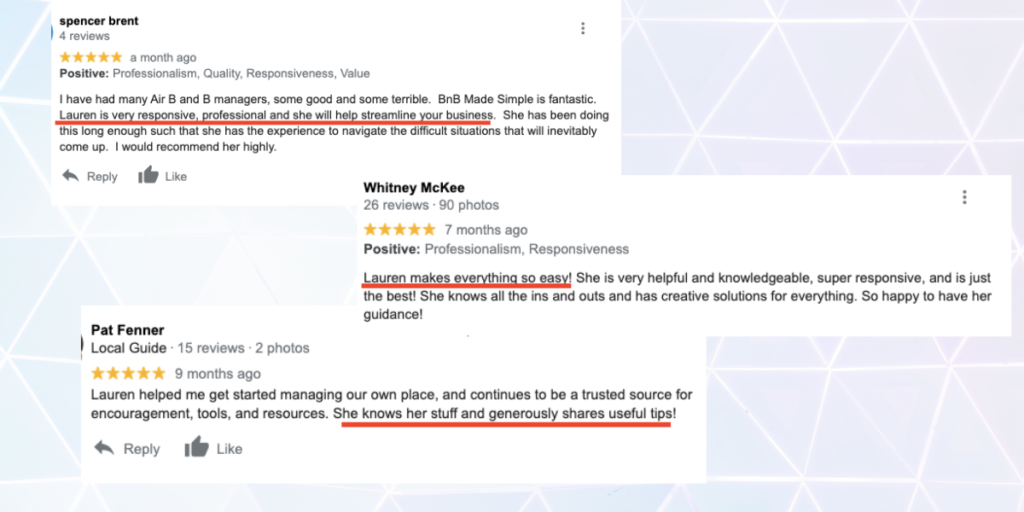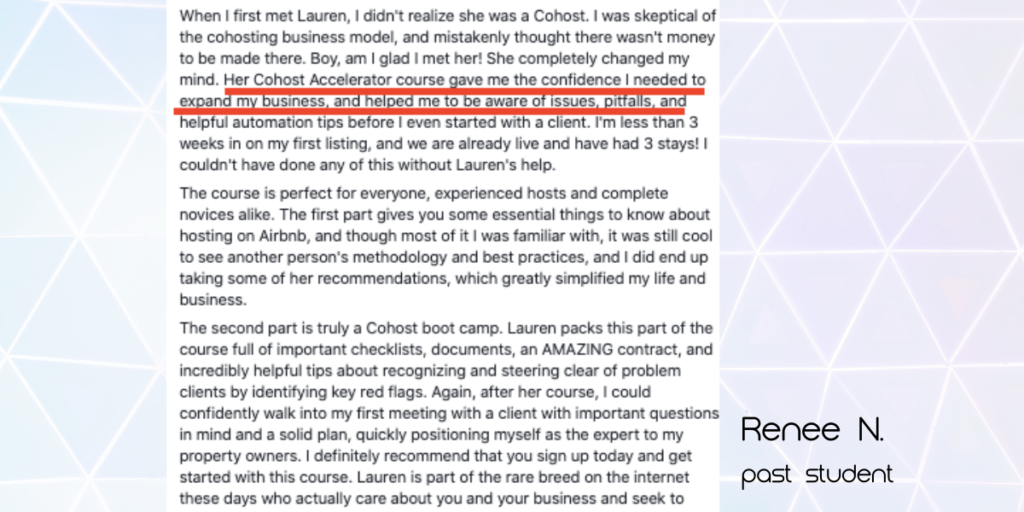 ---
Why do my students rave? Simple. I care deeply about you and your success. As a matter of fact, I take it personally.

Your success is my success. Likewise, your failure is my failure.
And I don't like to lose. 
I feel the same way about my clients. And it shows in their feedback…
Ready to go deeper? Click one of the buttons below to see how we can partner together.