Do you have a space on Airbnb or another similar site? If not, are you considering doing so?
It's a tough market out there. The advent of the sharing economy has made people realize how lucrative hosting on sites like Airbnb can be, and with every year the market becomes more and more flooded.
When Airbnb first started, you could list any old space, with crappy pictures and no thought to interior design or layout, and still do well. Not so anymore.
To succeed, you have to stand out.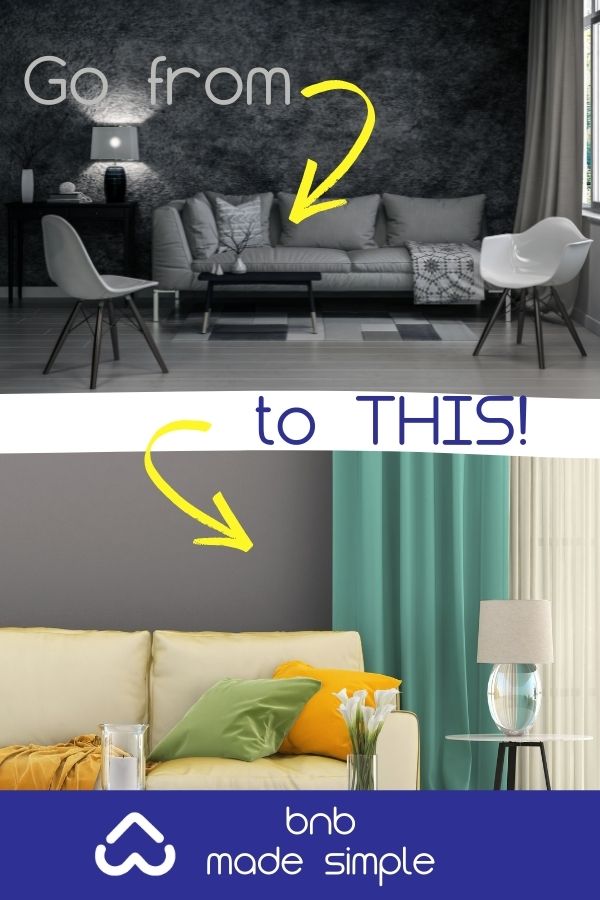 When I tell this to my clients, this often induces waves of panic and dread. All sorts of concerns and excuses flood their minds. "I don't have the money to buy new furniture…I'm too busy to bother…I don't have an interior designer's eye." The list goes on and on.
But you don't have to be rolling in the dough or have loads of spare time to hunt down bargains to make your space attractive and memorable.
Here's 10 easy things you can do to make your Airbnb space better:
Buy some succulents. It's amazing what a little greenery can do. And they don't even have to be real! Buy plastic succulents and stick them on tables or in corners of the house to brighten up any room.
Paint an accent wall. Most people hate painting. But a single wall is much less daunting. And it can do wonders for perking up a room. Go from sterile and boring to bold and exciting in just a few hours!
Put a bathtub tray over the tub. I'm talking about those little trays (usually wooden) that can be placed on top of a bathtub and allow people to place their phone, book, tablet, etc above the water while they're enjoying their bath. Simple luxury that's so easy to achieve. A great addition.
Buy a sign or map with your local city name on it. People love feeling like they've come to some place special. So make them feel like it's a special place worth celebrating!
Hang a chalkboard and write some great local restaurant recommendations on it. This is another great way to celebrate your city, as well as make guests feel more at home.
Put in warm-colored light bulbs. It's amazing the difference light can make in the feel of a room. Switch out your bright or fluorescent bulbs with warm or LEDs. You'll be astonished at the result.
Leave bottles of water or granola bars for your guests. This is a great way to show your guests that you've put thought into their experience.
Have an umbrella on a hanger by the door for your guests to use if needed. I've only ever stayed at 1 place that did this. And boy was I grateful for it! (And also super impressed. That one gesture was probably the clincher; I'm now a happy repeat customer for life.)
Put out makeup removal wipes in the bathroom. This will not only make your guests feel like they're special and worth investing in; it will also save all your hand towels from the ravages of eyeliner and lipstick.
Make sure the kitchen is equipped with the necessary basics. No one wants to wake up on vacation and go to make coffee, only to realize there aren't coffee mugs in the kitchen!
What are some simple things YOU've done to make your place "pop"? (Or what are you planning to do?) Share your ideas in the comments!