A few years ago, a guy named Julian Miyata reached out to me. He asked me if I'd like to be interviewed for a podcast he does on people who have had success with short-term rentals.
Honestly, my first thought was "Who, me?"
Although I know I have had a lot of success in this world, sometimes it's still strange to think of myself in that way.
Once I got over the initial surprise, I happily accepted his invitation. We actually recorded this interview two years ago. (Unbelievable how time flies!) In honor of that "anniversary", I'm sharing it with you again today…
But I'm not sharing this just to toot my own horn.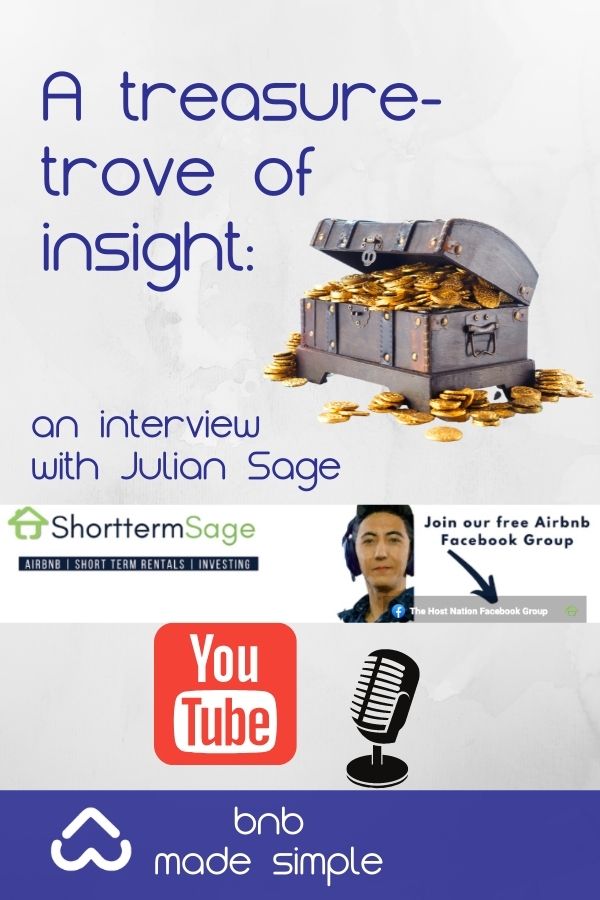 Actually, I want to toot Julian's horn.
His stuff is really good. Since we recorded this interview, I've listened to his weekly episodes. And I've learned something in every single one.
He finds people who have carved out their own unique niche and is good at asking them the right questions to help tease out the best and most informed experience for the listening audience.
If you like podcasts, I'd highly recommend checking his Short-term rental Success Stories podcast out. He's "da bomb"!
(Or if you enjoy video, you can watch our interview below)
Happy hosting!
(Please note: there are LOTS of things that have changed since this episode was recorded/aired, many of them related to my training and licensure and Airbnb's operating procedures. And check back next week with more of my take on government regulation of short-term rentals. If you host – it has everything to do with you!)