There are many aspects to hospitality, and as short-term rental hosts, we have the opportunity, privilege, and responsibility to explore ways to make our guests feel at home and comfy in our space.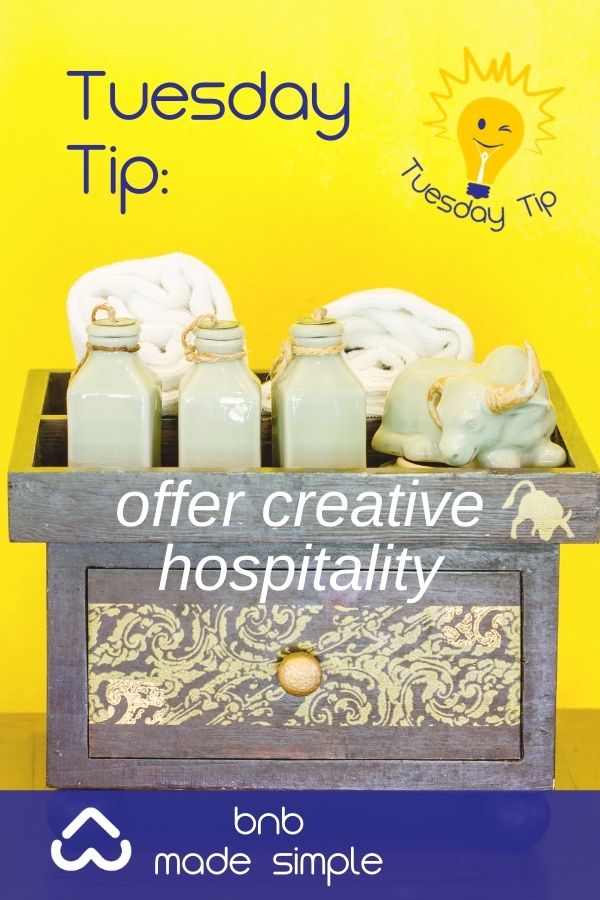 Comfort-wise, there are a few things that you should always provide for your guests, such as towels and soap. But that's just the bare minimum.
If you want to do a little more, you can provide personalized sizes of shampoo, conditioner, shower gel, lotion, bar soap, and more. Many hosts have started doing that in some form or fashion.
But if you really want to make your space stand out, you need to get creative with your giveaways. Think about the space you're offering, and then give your guests things that compliment your unique environment.
Here are a couple of ideas:
A bottle of wine at a romantic getaway
A s'mores kit at a cabin that gives guests access to a firepit
Loaned beach umbrella and towels for a beachside listing
Public transit passes for listings near public transit or in the heart of the city
A guest book with local food and activity recommendations
Granola bars and oatmeal at a place that caters to business travelers
A map of local bike trails and/or walking paths
A small sampling of local food, if there's something your area is famous for
As you can see, the possibilities are nearly endless. Get your creativity going and come up with something to surprise your guests with that complements you and your space perfectly!