A few years ago I attended a short-term rental networking event. 
This was pre-pandemic, and, to be honest, I didn't want to go. I was peopled-out, and just wanted to curl up on my couch with a movie and fuzzy blanket. But I knew it would be a good opportunity to meet other people in the short-term rental space, so I reluctantly put on pants, dragged myself out the door, and went. 
I'm so glad I did.
The event, honestly, was only so-so. But as I spoke to people, I was reminded of why I love doing what I do.
Not only that, but I was reminded of the importance of doing something you love.
One conversation, with a man called Dito, especially stood out to me. I was telling him about my history of how I got into the short-term rental market. It really came about by accident, after I realized that I didn't want to be a full-time writer anymore. I was explaining to him how much I used to hate networking, because I didn't like "selling myself."
He cut me off. "But you're still selling yourself," he pointed out.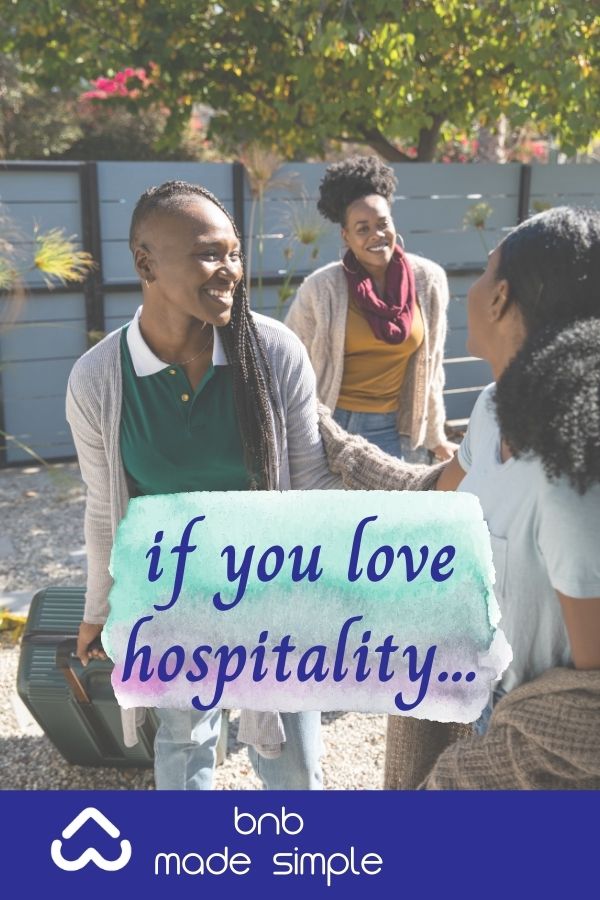 He was right. Every time I tell someone what I do, I am selling myself. So why don't I see it that way anymore?
It's because I love what I do.
I love hosting. I love enabling other people to host. I love teaching them how to be better hosts. And I genuinely believe that not selling myself would be a disservice to the people who might be interested in what I have to offer.
Sometimes people forget that Airbnb and other short-term rental platforms are, in their essence, hospitality industries. Yes, there is the potential to make a lot of extra income, and that can be a very appealing allure to many people. But if you don't do it with generous hospitality at the heart of it, you're going to either burn out or lose all your good guests. Neither one of those scenarios is a recipe for success.
If you're going to get into this business, even as a side hustle, you have got to love hospitality.
If you don't, you have got to hire someone who does love it to take care of things on the front end. Or perhaps you should find a side hustle better suited to your needs and personality.
But if you do love hospitality, this might be the perfect gig for you. Few things in life bring me more joy than thinking of creative ways to make my guests happy and hearing happy feedback from them when I succeed. It's why I'm so good at what I do. It's why I have hundreds of 5-star reviews and nearly a 100% retention rate with my clients. It's why I'm so passionate about sharing my knowledge with like-minded people. 
You may not be able to put all of your energy into doing this full-time. That's ok. But if enabling good hosting and traveling experiences sparks a chord with you, if it's something you think you might love, then I encourage you to give it a go. You never know until you try. Who knows, you might find out that you love it as much as I do!