One of my favorite Airbnb stays was in a tent.
Granted, it was a really fancy tent – had a couch, queen-sized bed, heater, and more – the very perfect example of glamping. But it was still a tent.
What I loved about it so much, though, was not the canvas walls, but the homey touches. This place was in Idaho, and the owner had made sure that we felt the local charm that made her State unique. 
Outside the tent was a hand-written chalkboard sign that read "Here we have Idaho" (the official state song of Idaho). Inside was a jar of what I thought at first were oddly shaped lemons – until I realized they were potatoes. Idaho potatoes – duh! 
It was charming and memorable, which is always a good thing 🙂
So that's today's tip: add memorable details that touch on the local charm of your place.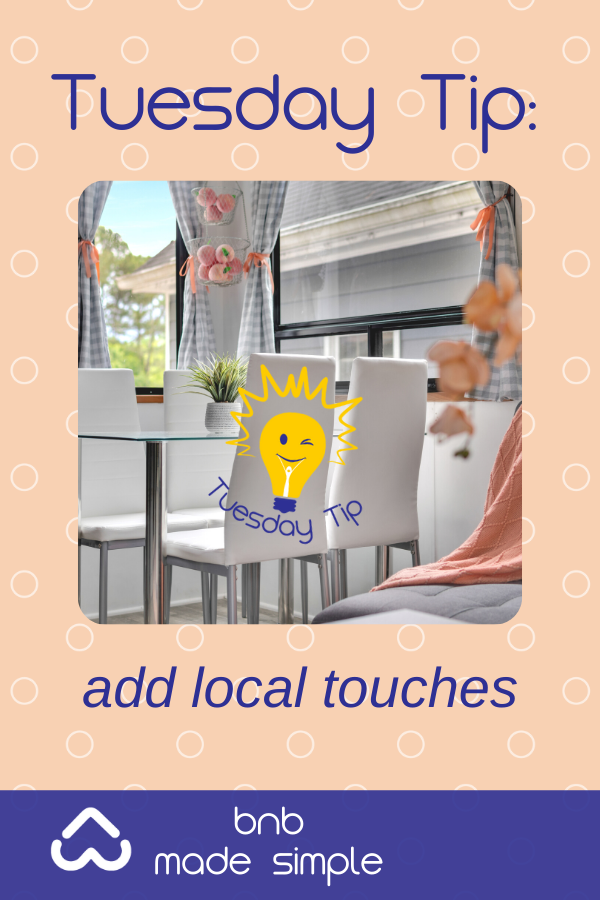 Some ideas for local touches that add charm
frame a map of the area, marking your location, of course
place coasters of local attractions on your coffee table or side tables
use dishtowels with state or local maps, slogans, symbols, etc
don't forget making brochures of fun destinations or events available. Consider putting together a book or binder to keep them in
use your city or State's motto as a decorating theme, as we did with our "towtally peachy" camper
or decorate according to your environment. "Play up" your woodsy cabin, or your lakeside cottage, or beachfront bungalow…
I'm sure there are more you can come up with that are specific to your location. Feel free to share in the comments some interesting ones you've discovered.
I can't wait to hear your ideas!
Happy hosting!