Description
This manual will literally save you hundreds of headaches and tons of time as you grow your co-hosting business. It contains all the important information that your client – the property owner – should know, in order for you to work together peacefully and profitably.
It comes as a fully customizable document – download, update, and you're ready to go. Start by making a copy for yourself as a template. Then, add sections that apply to your particular space, delete sections that don't apply, or update/modify any that you need. And you can use it over and over as you add new clients!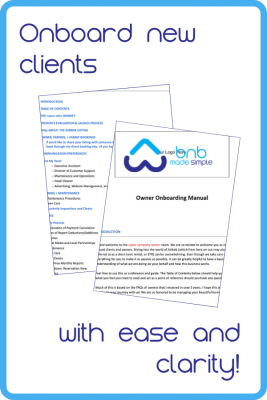 Within the manual, there are sections to include:
Information about the Airbnb market in your specific location
Your particular property evaluation and launch process
FAQs about the property's listing
How to handle owner, friends, and family bookings
How client payouts are handled
How damage claims are handled
and MORE!
PLUS, you don't have to figure it all out! Many sections have the same information that we use in our own business, so you can take a sheet from our playbook and run with it – or be entirely unique: your choice!
DISCLAIMER: THIS IS NOT LEGAL ADVICE. If you have any questions as to taxes, insurance, or entity status please consult a professional banker, lawyer, CPA, or insurance agent. The information provided above is a general guide. Your specific situation could differ.