Yes, friends, Christmas is just around the corner, and it's not too soon to start planning ahead.
While gifts aren't something you should feel obligated to buy, this is a wonderful time of year to show any guests you may have how much you appreciate them. Especially if they find themselves traveling during the holidays and are making your space their "home away from home."
And if you already co-host, then it's definitely appropriate to show your gratitude to your clients. After all, it may be their space, but they are also contributing to your financial bottom line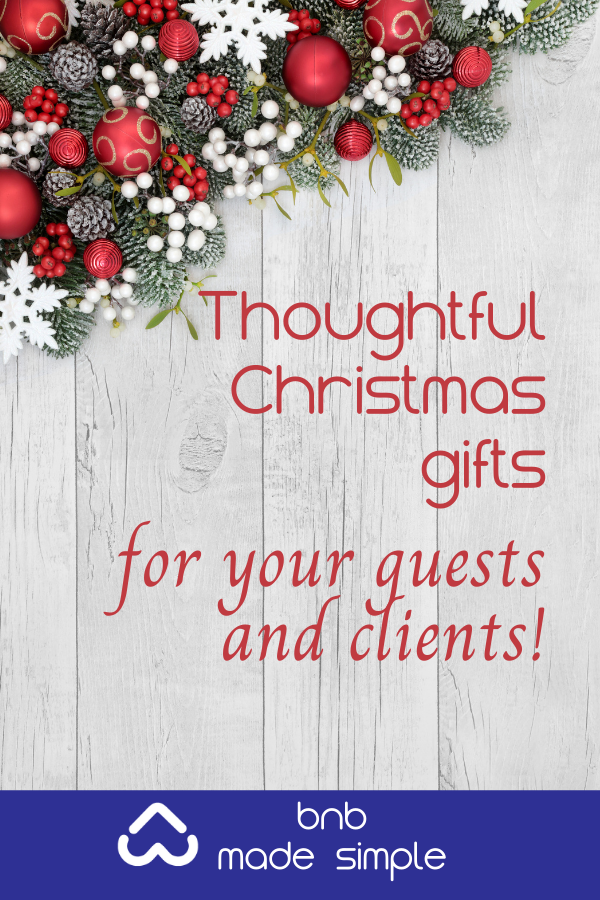 ---
Christmas gifts for your guests…
We place small gifts in our guests' room when they book during the month of December. Of course, be wise with your budget. If you have many short-term guests, don't feel obligated to break the bank and go overboard. But a sincere show of kindness is never lost on anyone…
Provide an upgraded set of soaps and package them in a cute gift bag, small gifts that are specific to your location as a combo gift and memento of their stay.
If you're an artsy type, consider making something that only you could make. I've been quilling for many years as a hobby, so I like to give my guests little quilled creations like this or this (it's all made of paper!). Or how 'bout a home baked bread or a cutely-wrapped jar of your prized jam or jelly recipe. Another friend of mine is an amateur beekeeper, so she gives little jars of honey from her own bees. Get creative! Nothing says "thank you" like a personalized piece of you.
Or team up with some local restaurants to get some special "your guest only" discounts offers and gift a delicious evening out?
If your guests have mentioned something they're interested in, consider getting that for them as a gift. For example, we play a lot of games with our guests. Every now and then, one of them really hits it off with one of the games we've played. So I'll often give it to them as a parting gift. Nothing beats a pleasant surprise! 
If you have a Costco membership, how 'bout a pre-designed gift basket? They have a huge selection of gift baskets to suit every budget. If you don't have a Costco membership, most any superstore will have things like these around the holidays. Or, just click on the link for inspiration and make your own!
If all else fails, consider a handmade card with a giftcard or writing a heartfelt note. Letters are so rare these days, they can really make an impression on someone. 
---
and for your clients!
---
Ah, yes, sometimes they give you a headache, other times you shake your head in wonder…and yet there are days when the sun, moon, and stars align and you feel like they're family!
Despite the occasional misunderstandings, the conflicts, and perhaps disagreements, once you're synced with your clients, it's a beautiful thing – so let 'em know you appreciate their business and their trust with some of these ideas.
Loop & Tie provides curated, artisan-inspired gifts for your clients and staff that help cement your brand. And each one helps support local artists and craftmakers. Get started here.
Knack offers hundreds of customizable items, too,and when you sign up for their newsletter you get an instant coupon
Peachbox is another great resource, and when you sign up for their newsletter, you get a coupon for 10% off your first order.
OK, those are some of my gift ideas – we'd love to hear some of YOURS! Share them with us in the comments…and Happy Holidays!