Introducing hygge to your guests' "home away from home" will ensure your guests have an outstanding experience during their stay!
---
Every now and then I come across a word in another language for which there is no English equivalent, but there should be.
Once such word is hygge.
Hygge (pronounced hue-gah) is a way of living that the Danish people swear by. It focuses on friends, family, and appreciating the little things in life. Denmark is regularly ranked as the happiest country in the world, so they must be onto something here!

"Hygge is where you feel relaxed in the place you're at and with the people you're with," says Danish anthropologist Jeppe Linnet, Ph.D. "It's a good atmosphere for getting to know each other."
I wonder if there is no English equivalent because it is not a concept that the English-speaking world regularly practices. We hurry hither and thither, wearing busyness as a badge of honor and exhaustion as a state of being. We shut the doors to our neighbors and rarely get to know our colleagues (yes, even before Covid). We speed through meals, gobbling them down in front of the TV or in the car.
It's no wonder that Americans are stressed out and overweight.
We are innately wired for community. Not for simply living in a neighborhood or gated residence, but for real community. For people around whom we feel relaxed and comfortable because we've taken the time to truly get to know them. In a word, we are wired for hygge.
On their deathbed, no one will wish that they worked harder or had a bigger house. They often, in fact, will wish that they had worked less, and will almost always wish that they had spent more time investing in relationships.
For more on this subject, read Bronnie Ware's book "The Top 5 Regrets of the Dying"
But let's talk about hygge "at home"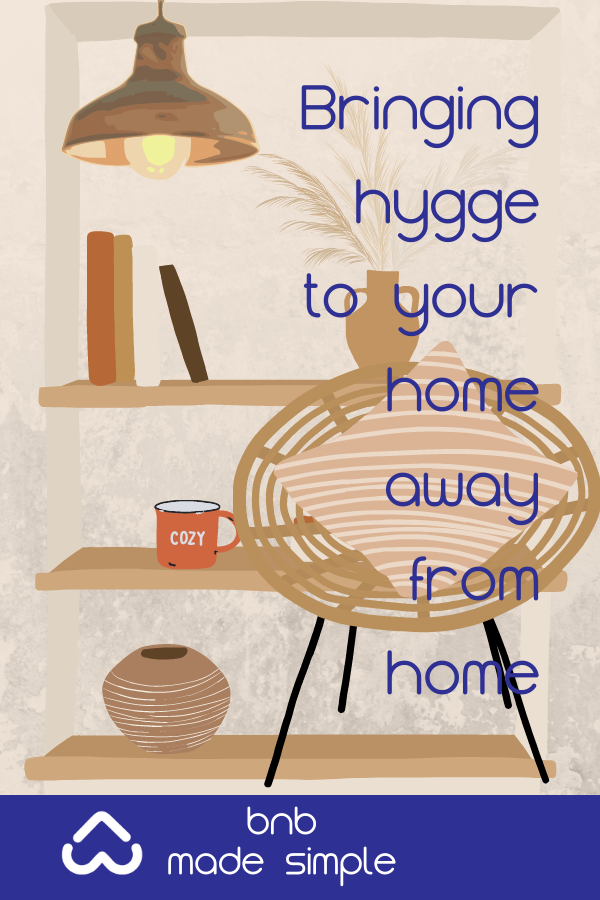 The definition of hygge, or hyggelig (adj.), refers to finding comfort, pleasure, and warmth in simple, soothing things such as a cozy atmosphere or the feeling of friendship. The Scandinavian term encompasses a feeling of coziness, contentment, and well-being found through cherishing the little things. While it was a trendy term a few years ago in the States, it remains a way of life in Scandinavia.

And I'd like to propose that we bring it back to our lives here and now. I mean – who couldn't use more comfort and warmth? A cozy atmosphere in which to enjoy friends? Time and the opportunity to cherish the little things that surprise and delight?

If you consider your short-term space as your guests' "home away from home," you have an amazing opportunity to build this characteristic into your rental, ensuring your guests have an outstanding experience in the process!
Get started simply…
By simply getting started. Take a long look at your space and see how you can make it cozier. Start with the color palette (think bare wood, earth tones, simple-and-soothing). Add soft blankets, throw rugs, and pillows in muted, complementary colors. Candles are a big thing for Scandinavians, but you probably want to avoid them in a rental space. However, you could do battery-operated candles, or trim a palm tree or mantle with white sparkly mini-Christmas lights. Adding books to your space definitely adds hygge – is there a corner you could turn into a comfy reading nook? Perfect!

Spend some time looking up ideas on Pinterest, and Hygge at Home and Living is a great resource to learn more, too.
Tell us – how are YOU going to incorporate hygge in your spaces?