Well, the holidays will be officially upon us before you know it! For a lot of people, that means lots of good food and good family time. For others, it's a stressful time of drama and spending way too much money on Christmas presents. So NOW is the time to be giving thought to maximizing your revenue, because
for many short-term hosts, the holidays mean a huge drop in bookings and income.
Unless you're located in a popular winter destination, you're likely going to see a drop in bookings in November and December. People simply aren't traveling as much. Or, if they are, it's to stay with friends or family.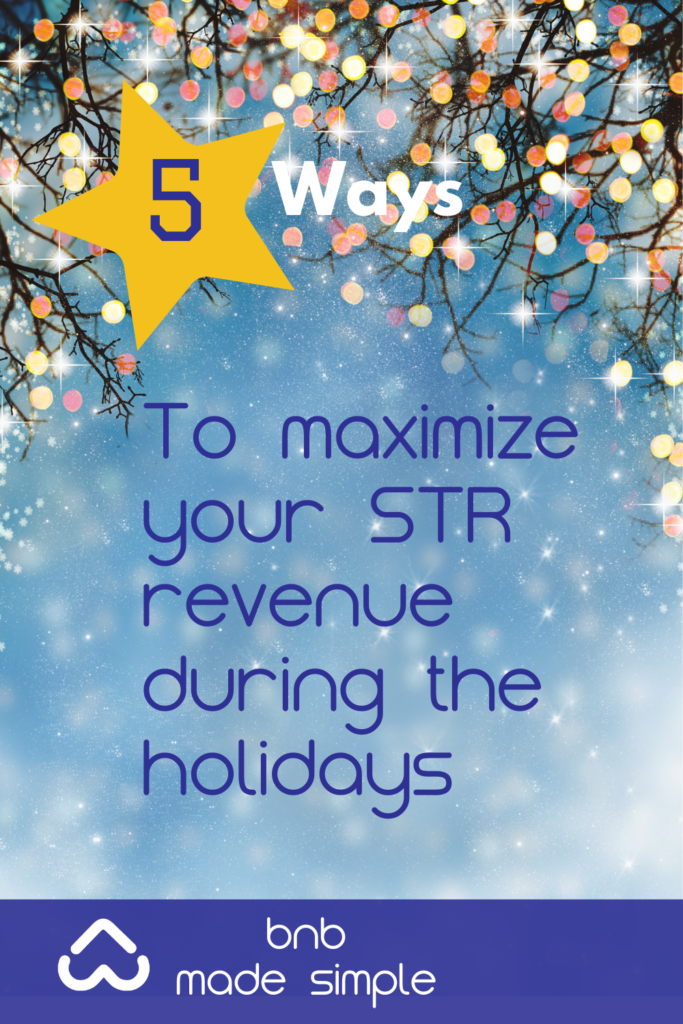 What can you do to maximize your revenue in this slow season?
1 – Update your listing frequently
Airbnb's algorithms prioritize listings that have been updated recently, to make sure that guests are seeing spaces that are managed by an active and engaged host. So every other day or so, log onto your Airbnb account and make a couple of small changes – edit the listing title, move around a couple of pictures, change the price by $1, etc. It seems silly, but this really will help your rankings
2 – Add a discount to the title
I recently added *holiday discount* to the front of all of my listings. Although I didn't actually change the price, I saw a marked increase in inquiries. So much of your listing and description is psychological. People like thinking they're getting a deal – even if the prices are actually the same as before. So give them what they want and say you're running a special!
3 – Decorate for the holidays
If someone is trying to make a decision between two different homes for a Christmas stay, many times decorations will be the deciding factor. When you're traveling over the holidays, it's nice to still be able to enjoy a Christmas tree, lights, and the like. So if you're feeling up to it, consider putting up a few decorations to your listing to add some Christmas cheer. And don't forget to put a picture of it in your listing so guests know about it! (But don't only do this around Christmas – play it up for your favorite holiday any time of the year as a nice surprise for your guests.)
4 – Offer some extras
Consider offering some extras that you don't normally give guests. Some examples are firewood for the fireplace, breakfast, airport pickup, free public transit passes, etc. These are little extras that can give you an edge over your competition.
5 – Drop your prices
You might be making less money in the slow season. Just accept that. Drop your prices a bit to stay in line with other rentals in your area. It's better to get a booking at a lower rate than no bookings at all!
What are some suggestions you have to increase bookings over the holidays? Let me know in the comments!