One thing I never anticipated as a host was that I would appreciate a guest who offered grace. But let me explain…
A while back, I had to do some people-juggling at one of my properties. The main floor suite was occupied by a paying guest, but unforeseen circumstances meant that we had to bring in my elderly grandfather to stay with very little notice. Unfortunately, the only bedroom that he could access was on the main floor. And that one was already occupied by someone else.
When I explained the situation to her, she was amazingly understanding. Even going so far as volunteering to move to the smaller upstairs room so that he could have the main suite.
Her thoughtfulness really touched me.
And yet, in some ways, I'm surprised it affected me as much as it did.
I get guests behaving like this all the time. Of course, the circumstances aren't usually as extreme as they were in this scenario, but the fact remains that paying guests can be enormously understanding and accommodating while they're staying in your space.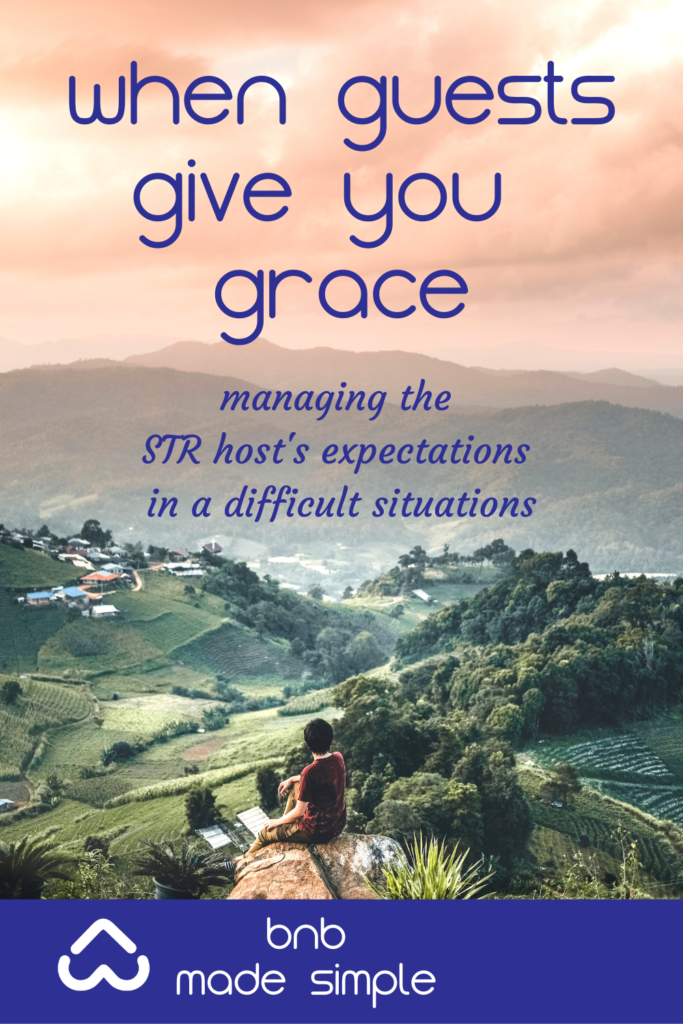 You'd think I'd be used to it by now, but it still surprises me every single time.
A big mental blocker that many people have against hosting – especially in their own home – is that they're concerned they'll have to turn their lives upside-down to accommodate all these strangers. The assumption is that they'll be expected to give and give, without any regard for their own personal needs.
But they've forgotten that guests are people, too.
And most of them, in my experience, are pretty darn good people, to boot. In my experience, with just a handful of exceptions, I find that people turn out to be kinda what you expect them to be. If you expect them to be difficult and hard to deal with…(you can fill that in). But if you anticipate a friendly working relationship and greet them with a smile – even if you "greet them" via email or a pre-written response – that may be the start of something both of you will enjoy and benefit from.
They understand that things come up. They understand that you might forget things occasionally. They'll understand that plans change sometimes. Most guests will be more than willing to give you grace.  Because they recognize that you are just as flawed as they are.
Don't let a fear of not being able to achieve impossibly high hosting standards keep you from hosting. You'll learn, you'll grow, you'll improve, and more than likely your visitors won't be nearly as demanding as you'd think.