I was recently working on our guest newsletter (and if you're a host, you have one, right?) and was sharing some trips for traveling during the cold months. It occurred to me, however, that I was doing my hosting friends a disservice by not sharing these winter travel tips here, too.
After all, I'm always harping about how hosts need some time off, and how hosts should have a backup so they can get a rest from time to time. Heck, giving hosts a break was the whole reason behind introducing my latest service, host-assist messaging, and adding it to my property management package!
So, friends, here is my list of travel essentials
I include what to pack, some recommended winter travel clothes, and on-the-road tips, too. The trick here is that I'm tweaking these suggestions for the Airbnb traveler. I'd love to hear your feedback!
Before you go
Make sure you reach out to your host ahead of time and know the directions and any unique check-in procedures. If you don't see anything in the listing, ask them about any interesting local destinations, their favorite place to eat, and/or any neat "hot spots" or activities they'd recommend. Then plan and pack accordingly.
If you're going to visit friends or relatives, don't wrap gifts ahead of time. Unless you're only traveling by car, keep in mind that airplane security may want to see what's inside. So bring along the gift wrap if you want, but wait till you get to your destination to do the prep. (If you're not flying, you probably don't have to worry about this, but ya' never know…)
And if you ARE traveling by car, make sure you treat your car to a tire check, oil change, and radiator/anti-freeze levels check-up before you head out.
Also car-related: pack up a small emergency kit just in case you get stranded. This includes a good first-aid kit, a yummy selection of snacks, small toys to keep the kids (or you!) occupied, a flashlight (a small one is great to always have on hand when you're traveling during these shorter days, anyway), and a warm blanket.
Packing essentials
Start with a hard-sided suitcase. They'll keep your things dry even if you run into snow or rain on the way.
Although your bulky ski jacket keeps you toasty warm, consider packing lighter clothing that you can layer. Thermals are a great first layer. Also, ask your host, or just do a Google search, of what activities are actually available in the area. You may decide to just hunker down and enjoy your space, and then you don't even need the extra items.
Tuck in some gallon-sized plastic bags in case your frolicking results in damp or wet items. Snow, rain, and (yikes: freezing rain!) can do a number on your belongings if you pack 'em up wet.
Winter-proof your boots before you go. Boots can keep your feet nice and warm (don't forget the warm socks), but unless they're waterproof, you DON'T want to get your feet wet – trust me. (Tip: Even if they're waterproof, it wouldn't hurt to shoot them with a spritz of waterproofing anyway.)
Two other winter must-haves: a hat or scarf, and a good pair of gloves. If you've traveled anywhere in the winter, you already know how important these are!
Pack moisturizer, lotion, sunscreen (yes, even in the winter), and chapstick. It's a good idea to think "sun protection" year-round. Your skin will thank you 🙂
Put together a travel kit with any vitamins or supplements that you need to keep your body in balance. Sure, your host may have aspirin or Pepto-Bismol. But it's unlikely they'll have extra Vitamin B12 or CoQ10
If you're anything like me, these heat packs are critical! Whether you use them for your hands or your feet, you will be SO much happier when you're toasty warm in the cold winter air.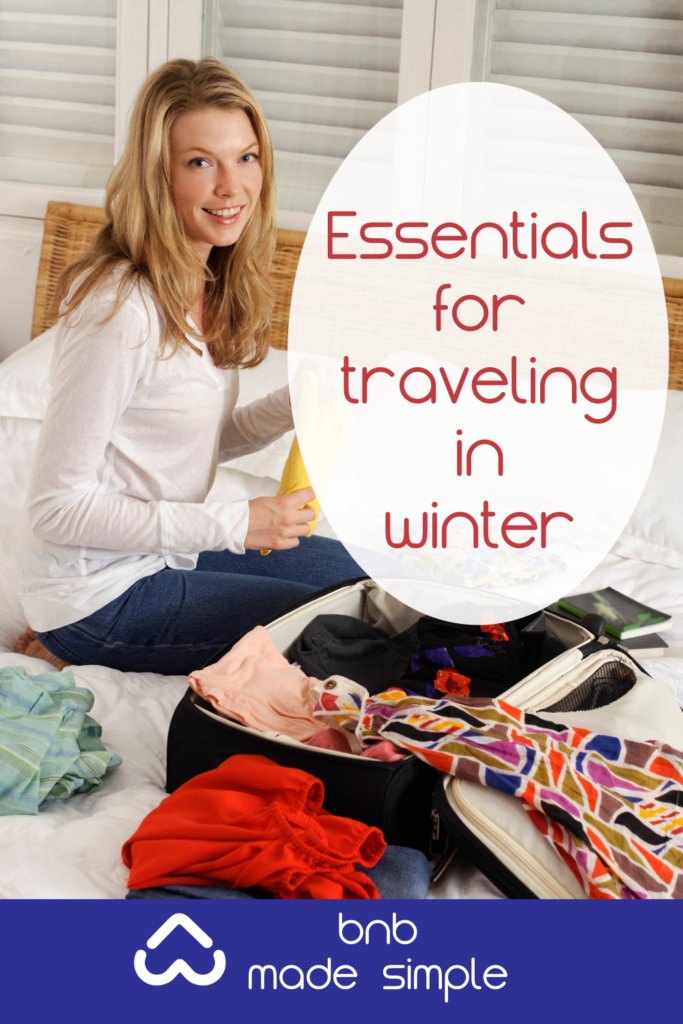 Essential while on the road
Keep in touch with your host – Sure, life happens and even the best-laid plans can run amok. But it's just common courtesy to let them know if your plans have changed from whatever you've already communicated to them.
Check the weather while you're en route. Yes, it's often wrong, and yes, it often changes on a dime. But this is one area where ignorance is NOT bliss!
And the MOST-important essential when traveling in the winter
Now, I know that sounds a bit melodramatic, but before you even plan to travel anywhere, pack a good attitude and a sense of adventure. Remember that you didn't HAVE to go anywhere this winter, but you CHOSE to (or perhaps you needed to…). So travel with gratitude and an open heart and make wonderful memories – even if you forgot your toothpaste!
Sources and additional resources:
TravelChannel.com
PickVisa.com
CNN Travel
Have I left anything out? Share your best travel tip in the comments!