Because – let's face it – this IS a business, and if we don't bring in some money we won't be a host for very long.
But at the same time, one of the features that can make your BNB stand out is that your guests feel cared for. Not just a credit card number at check-in at the front desk. They feel at home away from home.
So how do you both show you care AND make money?
Fair question! Here are some tips…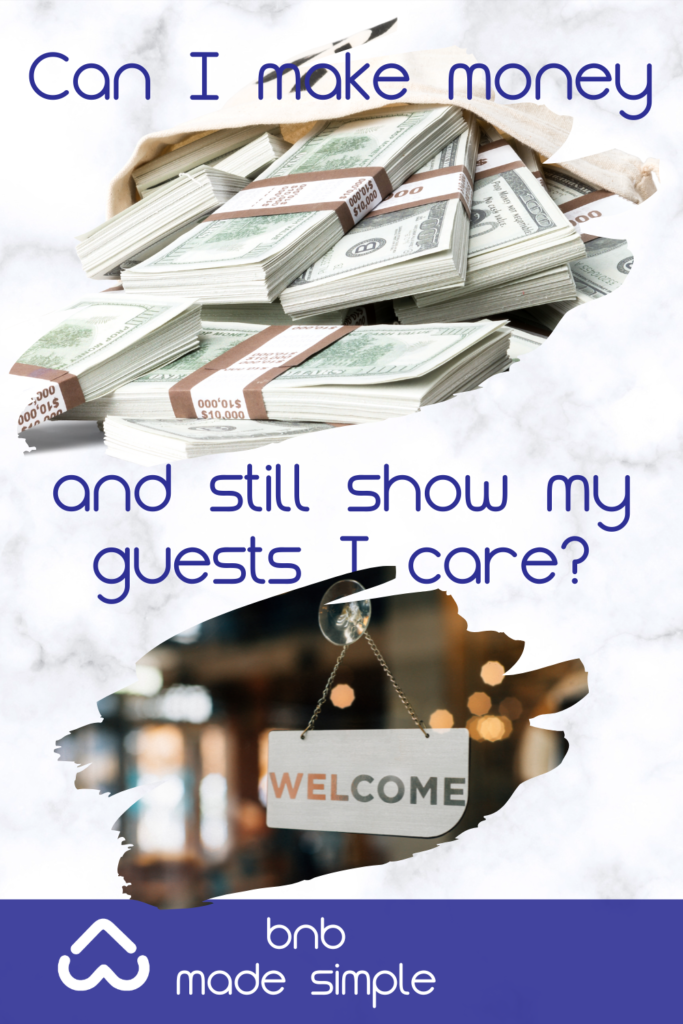 1 – Embrace hygge
Well, I started doing this a long time ago when we only rented out a spare bedroom. I did everything I could to bring hygge into the space, and I've written about it on my blog. But if you look around there, you'll see other pieces I wrote about hospitality. It can be as simple as:
And you can easily do this when you're just starting out…
2 – Book your own stay
Another way to know if you're making your space welcome is to actually book a short stay in it! Yup, that's right: pack your bags and stay at least overnight and see how things go. Is there enough coffee? Is the kitchen easy to get around in and well-stocked? What does the guest book look like – do you know where to go for fun in the area? Are there cleaning supplies and are they accessible? You may learn a lot! It might be a pleasant surprise – or you may discover room for improvement.
4 – Build a team
As your business grows, another thing you can do is start to build a team. Think "customer service." Ya' know, you can't always be on beck and call. And yet – stuff happens at the most inconvenient time, doesn't it? One way to provide excellent customer service without losing your mind is by training people to cover overnight hours, weekends, or just whenever you need to get away!
We've kind of taken this one to the next level with a top-notch team for the almost 100 properties we now manage. And we offer this as a service to other guest-minded short-term hosts. (If you're interested in learning more about this, please shoot an email to my team and ask for more info!)
5 – Stay in learning/growing mode
Finally, another way to continue to grow your business and serve your guests is to constantly be in learning mode. Visit my website (and others), YouTube, podcasts, the Airbnb blog…there are a plethora of sources out there to help you! Set aside time each week and commit to learning – the ROI will pay off in spades for years to come.
So there you have it: 5 ways (at least!) to show your guests you care without losing your shirt. Hope this info is helpful for you, your business, and your guests!